Arrival by car
Dortmund is situated at the eastern periphery of the Ruhr Area and is surrounded by one of Europe's most dense motorway networks that provides a good accessibility by car and bus. Take A1 if you come from north and A1 or A45 if you get to Dortmund from the south. Arriving from west take A40 and A44 from east.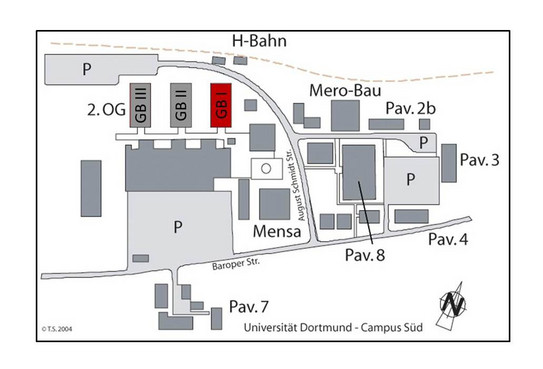 Arrival by train
The university has its own S-Bahn station ("Dortmund Universität") on the North Campus. From there, the S-Bahn line S1 runs every 15 minutes to Dortmund main station and in the opposite direction to Düsseldorf main station via the "Düsseldorf-Flughafen" station. This makes the university directly accessible from the cities of Bochum, Essen, Mülheim an der Ruhr and Duisburg. In addition, you can get from Dortmund city centre to the university by bus or tram by taking the U41 line from the main station to the "Stadtgarten" stop, then the U42 line to the "An der Palmweide" stop and finally the 468 or 447 buses to the "Dortmund Universität S" stop. Another option would be to take the U49 line from Dortmund Central Station to the "DortmundKampstraße" stop, from there to the "Dortmund Wittener Straße" stop with the U43 (direction Dorstfeld) or U44 (direction Marten) lines and from there with the 447 bus to the "Dortmund Universität S" stop. Individual timetable information for local public transport is also available on the homepage of the Verkehrsverbund Rhein-Ruhr (www.vrr.de/en).
Arrival by plane
International flight connections are offered by Düsseldorf Airport (www.dus.com/en), about 60 km away, which can be reached directly by S-Bahn from the university station. As a rule, however, it is quicker to get to Düsseldorf airport if you first take the S-Bahn to Dortmund main station and then a faster connection to Düsseldorf airport station (e.g. a regional express).
The H-train
One of the university's landmarks is the H-Bahn, which has two end points on the north campus. One ("Dortmund Universität S")is located directly above the "Dortmund Universität" S-Bahn station and is easily accessible from there by lift. The other ("Campus Nord")is located in the centre of Campus Nord at the bridge between the university library and the refectory, right next to the Audimax. The H-Bahn runs from the "Campus Nord" stop to the "Technologiezentrum" and in the other direction via the "Campus Süd" stop to the Eichlinghofen district (final stop "Dortmund Eichlinghofen").