NEILA
Sustainable Development through Intermunicipal Land Management in the Region of Bonn/ Rhein-Sieg/ Ahrweiler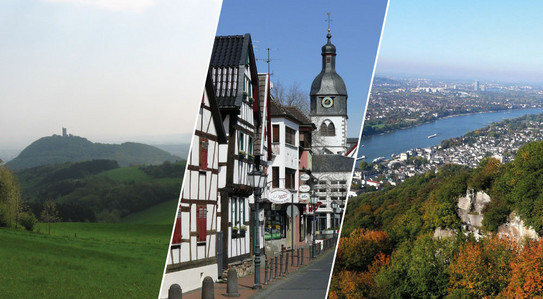 The BMBF has selected NEILA as part of the "Stadt-Land-Plus" funding measure in a nationwide competition. NEILA has set itself the goal of developing sustainable, intermunicipal land management in the region of Bonn/Rhein-Sieg/Ahrweiler (:rak).
The aim of the research network is not only to provide municipalities with concrete added value but also to collect and utilise scientific findings for other regions.
The transdisciplinary approach through the joint work of science (TU Dortmund and Research Institute for Regional and Urban Development gGmbH Dortmund) and practice partners (federal city of Bonn, Rhein-Sieg district, district of Ahrweiler and the business development and housing association mbH of the city of Königswinter) ensures that the developed approaches meet the practical requirements and are directly applied in the project region. At the same time, the research association aims to make the findings and instruments transferable to other regions.

The development pressures on the limited resource land in many metropolitan areas leads to urgent competition for and conflicts with land use. At the same time, not only in rural areas does the transport infrastructure lag behind the requirements. In order to achieve a regional sustainable settlement development, the current growth pressure in core cities and increasing disparities can only be encountered in cooperation with the surrounding municipalities.
NEILA assumes that an improved reconciliation of interests between the city, its environs and rural areas can only succeed if measures for sustainable land management and for the reduction of conflicts of (land-)use are firstly thought of in an integrated way and secondly coordinated between municipalities. This requires continuous communication and feedback with local politics. At the same time, sustainable urban and regional development requires planning based on empirically compiled and evaluated scientific findings. In particular, the scientific partners contribute to this.
The project work is carried out in close cooperation with the cities and municipalities of the Rhein-Sieg district and the district of Ahrweiler as well as the federal city of Bonn. The existing and proven structures of the :rak are used, such as the integration of regional and state planning and the regional economy (IHK and HWK). In addition, regional concepts such as the agglomeration concept of the Cologne/Bonn region are to be taken into account.
ROP Team:
Prof. Dr. Thorsten Wiechmann (project head)
M.Sc. Katharina Fesel (project coordinator)
M.Sc. Maximiliane Seitz
Dr. Thomas Terfrüchte

Project Homepage: www.region-bonn.de/projekt-neila
Duration of the project: 01.09.2018 - 31.08.2024
Funding: BMBF funding scheme Stadt-Land-Plus, FKZ: 033L203A